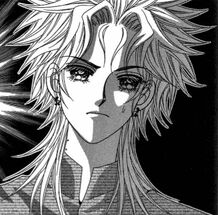 Seo Ji-hoo is the half-brother of Seo Kang-hoo and son of the vampire leader. He is the first son and successor of Seo Gang Min. His mother died after giving birth. Even so, he is determined to seal his position as the future leader, despite Kang hoo's assurances that he has no interest taking it from him.He is seen as rude and frequently playing around with women. However, he is actually a proud and arrogant vampire that is confident in his abilities. Much of the flirting throughout the series comes from his desire to find a human bride-turned vampire.
Ji-hoo has long silver hair that goes past his shoulders. It is thick with spikes on the top & flattened straight around the neck and bottom. He has wide eyes and well defined eyebrows.
He met Yoo Da-in in his search for human girl turned vampire. Yoo Da In's gang came to fight Ji-hoo's group but were easily defeated. Thinking Yoo Da In is a girl, he attempts to bite him, only to be interrupted by Seo Kang-hoo. A fight ensues and Ji-hoo stabs his brother. He meets Yoo Da In again at the mansion and at first, he was completely sure that Yoo Da-in is a girl. He points out that the only way Seo Kang-hoo could survive his wound was if he drank her blood. The fact that Yoo Da In was still alive afterwards confirmed his beliefs. But when it is confirmed otherwise, Ji-hoo tries to kill him. He has no need of a human man turned vampire. He treats Yoo Da-in like a boy afterward until Ji hoo finally drags him to a cellar, rips open his shirt and watches with interest as he turns into Medusa.
Relationship, 
Edit
Kang-hoo is Ji-hoo's half-brother who is also their father's heir. Kang-hoo is kinder than his brother.
Da-In is the boy who turned into a girl after becoming a vampire. He eventually falls in love with her/him.
In the English Version, his name is 'Joseph Mason' (or just 'Joseph').